Artists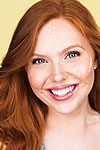 Liz Davis (Jennifer) (She/Her) Playhouse on Park Debut! Tibbits Opera House: Lucy YOU'RE A GOOD MAN, CHARLIE BROWN, Bless the Lord GODSPELL; New Bedford Festival Theater: Rita WHITE CHRISTMAS; White Plains PAC: Shelby THE PROM. BA, SUNY Cortland. Sending out love to my friends and family! IG@lizzdavviss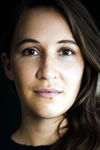 Alia Irshaid Gilbert (Female Swing) Playhouse on Park Debut! The Warner Stage Company: Yvette CLUE: ONSTAGE; Boston University Stage Troupe: Desiree Armfeldt A LITTLE NIGHT MUSIC; Athena's Players: "Flood" THE VAGINA MONOLOGUES; Willing Suspension Productions: Crispinella THE DUTCH COURTESAN; Boston University Stage Troupe: Honey WHO'S AFRAID OF VIRGINIA WOOLF?; Simsbury Summer Theater for Youth: Ado Annie OKLAHOMA!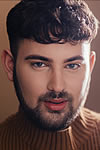 Sage Jepson (Dandelion) (They/He) Originally from Edmonton, Alberta, Canada, Sage is a multi-hyphenate performer and singer/songwriter based in New York. Select credits: RENT, ROCKY HORROR SHOW, Weston Theater Company: SEUSSICAL, SHREK (BroadwayWorld Best Production), HEAD OVER HEELS, METAMORPHOSES. They write music under "lavender boy" on Spotify/Apple Music. Sage is an advocate for experimental theater, brave new works and accessibility for artists of all abilities. BFA Boston Conservatory. sagejepson.com / ig: @sx.ge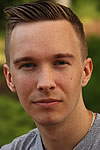 Ryan Phelps (Roscoe) Playhouse on Park Debut! Blue Gate Musicals: Paul A SIMPLE SANCTUARY, Glenn OUR CHRISTMAS DINNER; Central Connecticut State University: Dill TO KILL A MOCKINGBIRD, Janitor SCRUBS - MY MUSICAL; Manchester High School: Moonface Martin ANYTHING GOES. Ryan would like to express his gratitude to his family, friends, and Melody, for doling out words of encouragement and kicks in the pants, as necessary, and his many educators and draggers-into-things over the years. Much love!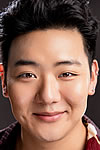 Jong Sang Rheu (Toby/Maxie) (He/Him/His) From Flushing, Queens. Jong is excited to be a part of PLAYHOUSE ON PARK'S World Premiere of DANDELION. Recents include: The Hangar Theatre: Anatole Kuragin in the Regional Premiere of …GREAT COMET OF 1812; Off-Broadway: Benjamin Summerwell in HAPPILY: THE MUSICAL; Shubert Events Center: Han Soo Park in the U.S. Premiere of GWANGJU. Enjoy this wholesome show, and he'll see you at Jenn's Party! For more info, visit: @jongsangrheu | jongsangrheu.com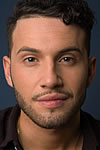 Niko Touros (Male Swing) Playhouse on Park: Usnavi IN THE HEIGHTS, Male Swing MISS BENNET: CHRISTMAS AT PEMBERLEY, Actor 2 ALL IS CALM: THE CHRISTMAS TRUCE OF 1914. Other favorite credits: Celebrity Cruises: Production Cast Vocalist; Warner Bros: The Flash DC JUSTICE LEAGUE LIVE; Seven Angels: Reggie, et. al. FIRST DATE; Pittsburgh Musical Theatre: Crutchie NEWSIES. Niko is a native of NYC and a student at CCSU, where he is studying to be a PK-12 physical education teacher. Thank you to Jill, Darlene, Sean, & Tracy for the opportunity to work on this world premiere production! Love always to Amelia, the best wife.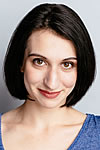 Sydney Weiser (Pippa) Playhouse on Park: Chana/Halina/Vera swing INDECENT; Legacy Theatre: Ella WINDYWOO AND HER NAUGHTY, NAUGHTY PETS; Carousel Music Theater: Betty Jean THE MARVELOUS WONDERETTES; The Barn Theatre: Sandy THE SPONGEBOB MUSICAL, Columbia THE ROCKY HORROR SHOW; Rochester Opera House: Christmas Past A CHRISTMAS CAROL. Marymount Manhattan College, BFA Musical Theatre/Directing. Sydney extends tremendous gratitude to her loved ones, who support her as she hops around the country from theatre to theatre.  sydneyweiser.com @sydney.weiser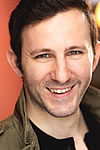 Dan Zimberg (Lou/Zippy) is proud to return to Playhouse on Park after making his debut there as Lemml, in INDECENT. Dan recently toured with TheaterWorksUSA: PETE THE CAT; Axelrod Arts Center: Eddie Mush A BRONX TALE, Seven Angels Theater: Sam Butera THE WILDEST. Today, he is excited to entertain you as Lou and Zippy. Now who's ready to have some fun? Social Media: @DanZimberg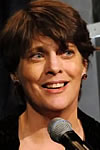 Mary Liz McNamara (Music) Current musicals in development (book/music/lyrics): THE GOOD GIRL, SISTER ANN, BODY AND SOUL. Mary Liz is a member of the BMI Musical Theater Workshop (Composer/Lyricist/Librettist/Screening Committee) where she won the Harrington Award for outstanding achievement and the BMI Foundation Eileen Schwartz Award for outstanding lyrics. She has won two Manhattan Association of Cabaret (MAC) awards for best comedy song ("Bacon" and "Christmas in Michigan") and five ASCAP Plus awards for songwriting. She is currently collaborating with playwright Aaron Ricciardi on an original musical, GOING AWAY. Proud member of AEA, SAG/AFTRA, Dramatist Guild. Her songs are available on all major streaming services. marylizmcnamara@gmail.com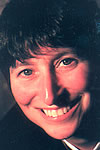 Joan Ross Sorkin (Bookwriter/Lyricist) Musicals: DANDELION, BLACK SWAN BLUES, MONET, IN THE THEATRE, THE REAL MCCOY, and award-winning family musicals ISABELLE AND THE PRETTY-UGLY SPELL and GO GREEN! PRINCE CHARMING'S QUEST FOR LOVE AND ECOLOGY IN NYC. Operas: STRANGE FRUIT, WHITE WITCH, and THE REEF (Finalist, Pellicciotti Opera Prize with Pulitzer Prize-winning composer Anthony Davis). Plays: (MIS)UNDERSTANDING MAMMY: THE HATTIE MCDANIEL STORY (Drama Desk nomination for Capathia Jenkins) and other plays in NYC/regionally. THIS IS SERIOUS and song "One Small Box," nominated by TheaterMakers Studio as Best Play of the Year and Best Song of the Year (2020-21), respectively. Member: Dramatists Guild, BMI Musical Theatre Workshop, ASCAP, and Opera America. Board Pres., York Theatre Company. www.joanrosssorkin.com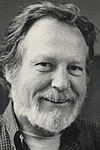 Don Freeman (Book Author, 1908-1978) Born in San Diego, Freeman is the best-selling author and illustrator of DANDELION, CORDUROY and other beloved children's books. Like his character Dandelion, he learned that the best way to go through life was to be honest with who you are. Don's way was with a sketchbook, observing people and using his imagination to create stories with pictures. He lived being true to this spirit, and he learned with all the difficulties and hardships of life that this is what creates true friendships.