Playhouse Theatre Academy offers programs, workshops and Master classes in special topics that allow teens and adults to connect with professional artists and expand their skill set. Past topics have included Improvisation, Broadway Dance: FOSSE, the Art of Clowning, and Contemporary Musical Theatre Auditioning.
Master Classes will be conducted virtually using Zoom.
---
Breaking Down The Song
INTO THE WOODS Edition
with DR. COLIN BRITT
June 27th, 2021
6:00 - 8:00pm via Zoom
The class is observation only, with opportunity to ask questions
$10

In the second installment of his analysis and discussion series about all things musical, Colin Britt will take viewers through the score of Stephen Sondheim's brilliant musical INTO THE WOODS.
Colin will talk with viewers about song form, structure, character, motifs, lyrics, and orchestration. Everyone from the avid listener to the trained musician is invited; there's always something new for all of us to discover together!
Registration Form
About the Artist: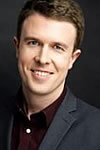 COLIN BRITT currently serves as Choir Director at Rutgers Preparatory School, as Artistic Director and Conductor of the West Village Chorale, and as Music Director for Grace Church Van Vorst in Jersey City, and he recently completed a sabbatical replacement as conductor of the Rutgers University Voorhees Choir. Prior to his current appointments, he served on the conducting faculty at SUNY New Paltz, and directed Amuse Singers and North River Sing. He has also taught on the faculty at the Hartt School and conducted the Hartford Chorale Chamber Singers.
His musical direction credits include Cabaret, Chicago, Company, Swingin' on a Star, and The Last Five Years at Playhouse on Park, Sweeney Todd, Fiddler on the Roof, Joseph and the Amazing..., and The Scarlet Pimpernel in his home state of Maine, and Peter Pan, The Who's Tommy, and Singin' in the Rain with theatres in Connecticut and New Jersey. With Darlene Zoller, he has provided music for 14 (and counting) productions of Mama D's Outrageous Romp. Colin holds degrees from the Hartt School, the Yale School of Music, and Rutgers University. He lives in New Jersey with his wife, actress Victoria Britt, their dog Mari, and they are eagerly awaiting the arrival of the newest member of their family this summer!
---