There are several opportunities Playhouse on Park is offering to local businesses to help promote your business while supporting the Playhouse and the arts in our community.
BECOME A SEASON SPONSOR - SEASON 6 Sponsorship Information

ADVERTISE IN OUR PROGRAM - [Season 6 Advertising Form]

Purchasing advertising in the Playhouse on Park program is a win-win situation! You get to promote your business to our audience members (who are active members of the Greater Hartford community and beyond) while supporting a local non-profit arts organization!
DINING PARTNER PROGRAM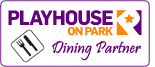 For restaurant owners, there are two other opportunities to partner with Playhouse on Park.
Become a Dining Partner
by offering a special or discount if patrons present their ticket or stubs on the night of a performance, for example. As we promote the Dining Partner program, your business will be getting additional exposure. Or -
you can Host a Cast Party
. This would include providing food and drink immediately following the opening night performance of a production. In turn, we'll promote your restaurant in several ways throughout the run of that production. Once again, please call 860-523-5900 ext. 11 if you are interested in either (or both!) opportunities.
Members of the playhouse's marketing and development team will be out in the community visiting businesses throughout the month of July. If you would prefer to schedule an appointment to learn more, please call 860-523-5900 ext 11. We look forward to working with you.
DIRECTIONS
RESTAURANT GUIDE
ADVERTISE WITH US
SPONSORSHIP
To speak about sponsorship opportunities or program advertising contact:

Tracy Flater
tflater@PlayhouseTheatreGroup.org
Playhouse Public Relations


860-523-5900 Ext. 11


Mail:

Playhouse on Park
Attn: Public Relations
244 Park Road
West Hartford, CT 06119